PHK and PZK
During this half term, some of us will continue to enjoy learning at home using Showbie, the website videos and home learning packs. Our subject areas will be Geography, History, Music, RE, Science, Art, DT, PSHE, Computing and PE. We will explore the Winter season through sensory activities.
In Georgpahy, we will be exploring human and physical features in a range of environments. So, what might we find outside right now? Is it warm or is it cold? We will be thinking of these questions when we explore at Forest School and in our gardens. We will also think about the clothing we need to wear to suit the weather. In Science, we will be naming and sorting animals that we find in certain habitats. For example, the woods, the farm and the seaside.
In History, we will explore old and new toys. Then in RE, we will be exploring a range of special and religious clothing. In Art and DT, we will be doing animal print collages and pictures and modelling activities in which we will be building a home for an animal of your choice.
In Music, we will continue to explore musical instruments, nursery rhymes, rhythm and rhyme. PSHE will involve looking at who is in our family. We will also explore how to keep oursleves safe at home and in the school environment, thinking about who helps us at home and in school. In PE, we will explore movement and dance. We will be focusing on using objects to travel round and through, balance on apparatus and travel round cones.
Our stories this half term are 'Not Now, Bernard' and 'Mrs Mopple's Washing Line'. We will be using these to help further develop our love of stories and we will create our own sensory stories for us to enjoy as well as role play the events. We will continue with linked activities, sequencing and mark making. As well as this, we will continue Phonics work using Letters and Sounds Phase 1, and where appropriate, Read Write Inc. to help us develop an awareness of letters, sounds and words.
In Maths, we will continue to focus on recognising numbers and quantities. We will continue to do daily number rhyme sessions and lots of practical maths activities to help us with our number recognition and counting. We will continue to explore shapes in order to recognise them in our environments. In Computing, we will explore drawing apps on iPads.
We will continue to do lovely relaxing sensory activities. These will be interlinked in all curriculum areas so the children experience mulit-sensory learning. We will also continue our Attention Autism sessions to help further develop our communication, turn-taking, listening and attention skills. The development of our independence and self-help skills will be continued too.
Suggested Timetable for Home Learning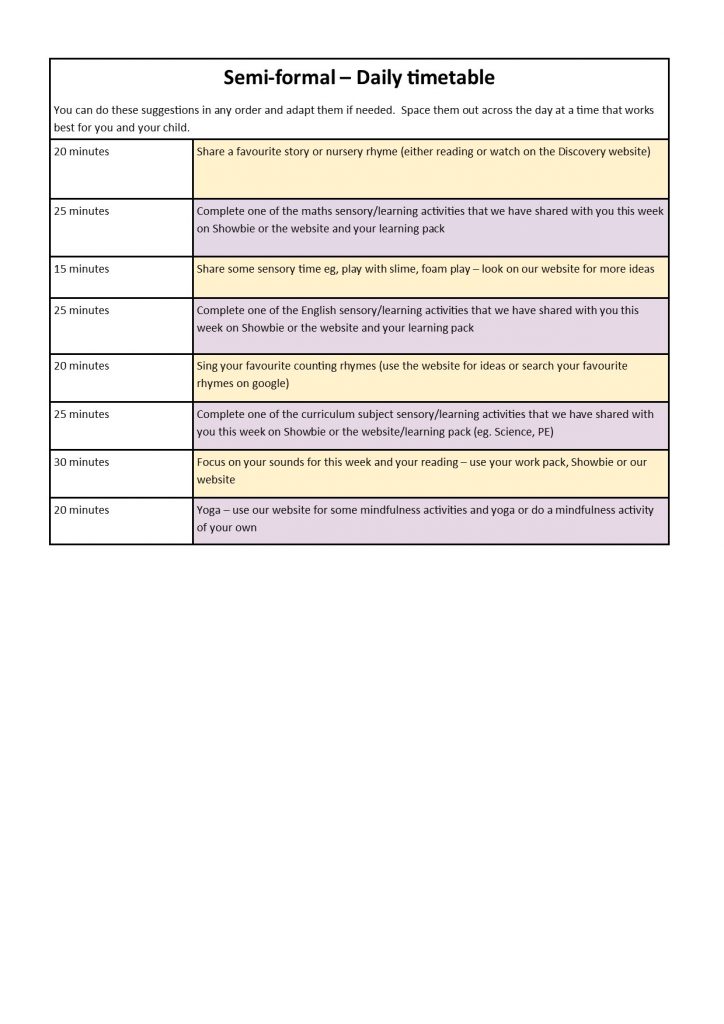 A Little Seed
Mark Making
Messy Play
Feeling Happy Joe's Story
Sometimes I feel Sunny Story
Feeling Happy Holly's Story
Painting with Food
Painting
Fishing for Numbers
Kitchen Disco Story
Attention Autism
What's in the basket?
Singing and Actions
10 Little ladybirds
Ice Painting
Mrs Mopple's Washing Line
Hello Song
10 Little Airplanes
Days of the Week
Playful Puppy
Squiggle while you Wiggle
Maths
Counting with Our Magic Fingers
In A Rocket
Whatever Next Story
Rumble in the Jungle
Rumble in the Jungle Water Activity
Songs
Silly Soup Song
Chanting Song
Good Morning Song
Good Afternoon Song
Phonics Song
Y1/2 Semi-formal curriculum overview