PHK and PZK
During Summer Term 1, we will explore the Summer season through a range of multi-sensory activities interlinked with our Attention Autism and Music sessions. Our subject areas will be Geography, History, Music, RE, Science, Art, DT, PSHERE, Computing and PE.
In Geography, we will be exploring signs and symbols within our environment and observing how they help signpost key areas in school. In Science, we will be exploring planting, observing plant growth, care and learning about the parts of a flower.
In History, we will explore things old and new in our houses. So, we will observe the changes in a range of household items such as a washing machine. Then in RE, we will be exploring a range of special religious buildings. In Art and DT, we will be exploring parties and picnics, sampling a range of cultural foods, making bunting, a picnic box and our own decorations and invites.
In Music, we will continue to explore musical instruments and will make our own instruments so that we can use them when we make a band! PSHERE will involve exploring places that make us feel happy and the reasons why. We will look at items from our special places and also think of how we can care for these places. In PE, we will explore a range of movements and will be focusing on rolling and throwing using a range of equipment and obstacles to help us practise these skills.
Our stories this half term are 'The Enormous Turnip' and 'What the Ladybird Heard'. We will be creating our own sensory stories to help us learn the events and further develop our love of stories. We will continue with linked activities including fine motor, sequencing and mark making activities. We will continue our Phonics, focusing on Phase 1 Letters and Sounds and where appropriate, children will use the Read Write Inc. scheme.
In Maths, we will continue with a range of practical activites to help us with our numeral and number quantity recognition. We will continue to do number rhymes and songs and will also link Maths into our Attention Autism sessions. We will also explore shape, problem solving and cause and effect activities. In Computing, we will explore instructions and how to follow these.
We will continue to interlink PSHERE across all aspects of our curriculum as well do daily activities to develop our self-help, independence and communication skills. Attention Autism sessions will continue to help develop our concentration, attention, turn taking, independence and listening skills.
Suggested Timetable for Home Learning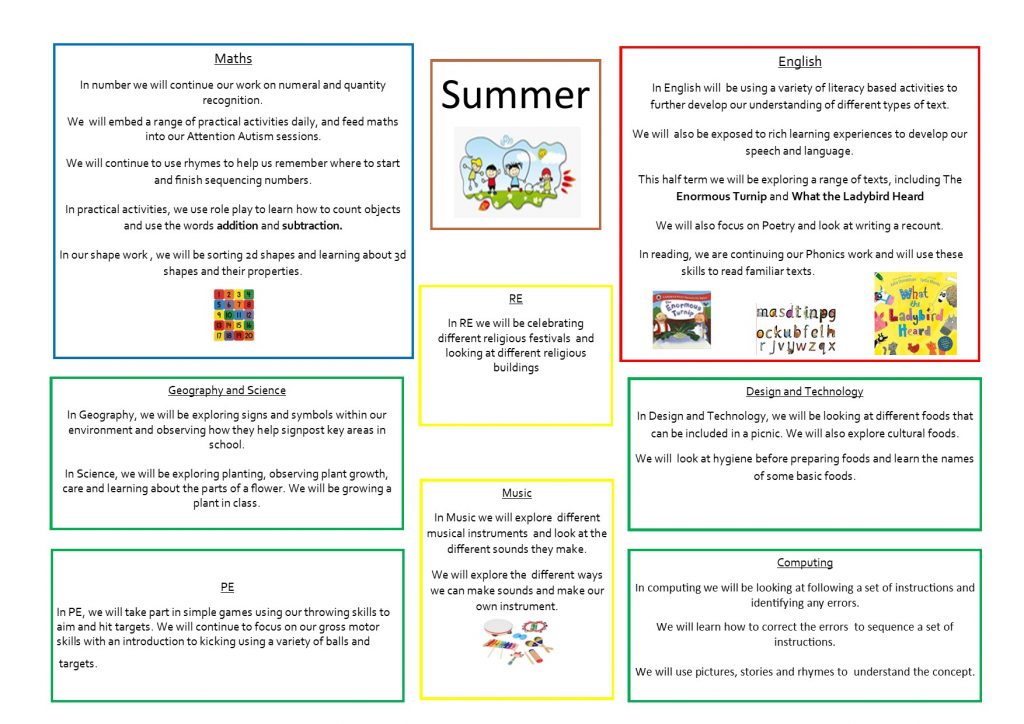 Walking through the Jungle
Mark Making
Messy Play
Feeling Happy Joe's Story
Feeling Happy Holly's Story
Painting with Food
Fishing for Numbers
Kitchen Disco Story
Attention Autism
Ice Painting
Mrs Mopple's Washing Line
Days of the Week
Playful Puppy
Squiggle while you Wiggle
Maths
Rumble in the Jungle
Rumble in the Jungle Water Activity
5 Fat Sausages
Good Morning Song
Good Afternoon Song
Phonics Song
Y1/2 Semi-formal curriculum overview