Mindfulness activities are a great way to support and teach children about their thoughts and feelings and how to understand them. While having fun! These activities help to focus the mind whilst boosting confidence and self-esteem.
Let's try 'five finger' breathing – it helps you to feel calm and lets you pay attention to your breathing, matching mindful movements with your breathing can be very calming.
Starting at the outside edge of your thumb, breathe in and use your index finger to trace up to the top. When you breathe out, slowly trace down the other side.
Keep breathing in and out, tracing up and down for a total of five breaths until you reach the other side of your hand.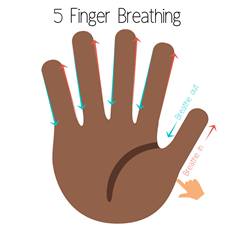 Cosmic kids use guided meditation to help children to relax and be calm, these are a collection of visualisations called 'Peace Out'. These are great for older children who can visualise, imagine and follow the journey, letting the pictures appear in their minds.
Click on the link below, listen and follow the instructions. Get comfortable and listen to 'Rainbow waterfall', relax, be calm, imagine, visualise and enjoy!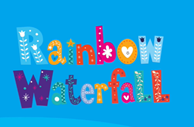 Cosmic Kids also have lots of story and adventure yoga sessions available on you tube for you to join in with and enjoy. Yoga is a fantastic way for children to develop concentration and encourages them to be active, build strength and flexibility, increases their coordination and balance and creates a balance between a healthy mind and body.
We all love Michael Rosen's story 'We're going on a bear hunt' and here is a yoga version for you to enjoy at home.