PCS and PLC
As the weather changes, clocks go forward and we hopefully experience warmer, sunnier days, we will be exploring nature and all of the wonderful things we can find outside!
During this first half-term we will be focusing on two stories 'The Enormous Turnip' and 'Peace at Last'. These stories are part of our communication and focus sessions, which helps to widen each pupil's vocabulary through repetition, as well as focus on the chronological events as we revisit and re-enact the stories. We will continue to work on sounds that we can recognise or make ourselves and where appropriate pupils will continue to progress through 'Letters and Sounds' phonics phase 1.
During our numeracy-based sessions we will continue be focus on number recognition and the value of numbers and amounts, consequently learning new skills, reinforcing and embedding our learning. We will also be looking at shapes in and around our environment and learn their names, expanding our mathematical vocabulary, where appropriate.
We will be exploring planting and digging, exploring different vegetables and plants. We will continue to explore and increase our range of sensory activities, accessing new experiences and environments.
We will continue to work on our Alternative Augmented Communication developing our use of symbols, signs and spoken word. Our Speech and Language programmes and Attention Autism sessions will focus on communication, turn-taking and attention and listening as we are encouraged to acknowledge and be kind to our friends.
We will endeavour to improve our independence and self-help skills learning about the world that is relevant to us. We will continue to celebrate the wonderful ways our children learn as we head into our final term!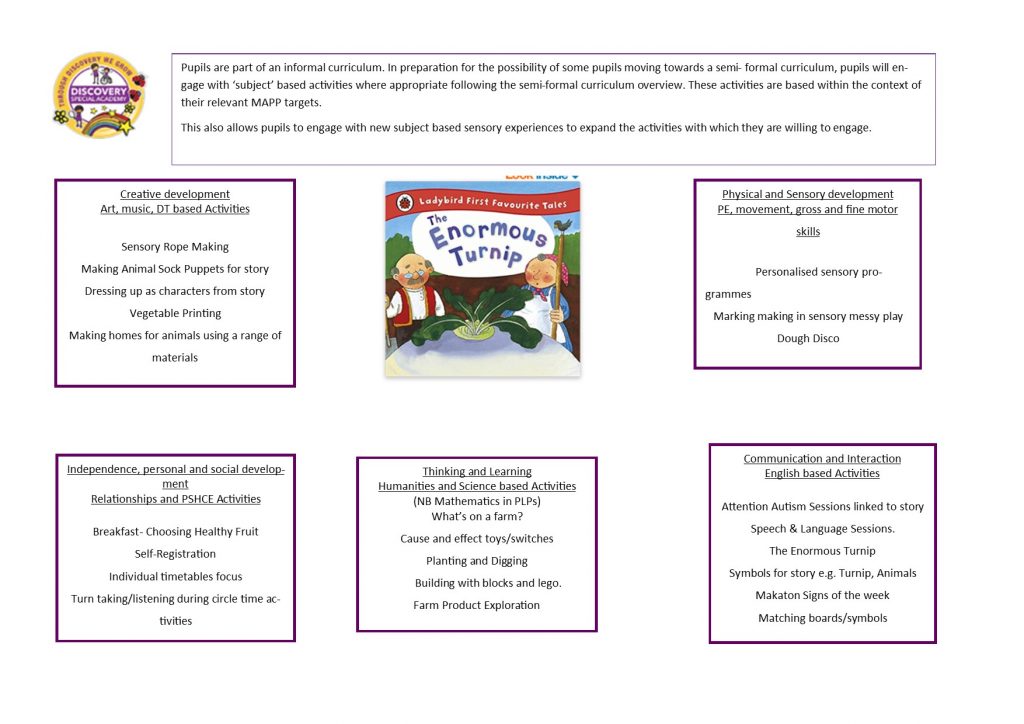 Three Little Pigs
Leaf and Twig Painting
Spaghetti Messy Play
Dear Zoo
Not Now Bernard
5 Little Monkeys
Porridge Play Dough
Goldilocks
One Fine Motor Activity
5 Little Men in a Flying Saucer
Pasta Jewellery
Whatever Next
5 Green Bottles
Bubble Art
Parachute Game
Informal group curriculum overview